สถิติผู้เข้าชมเว็บไซต์
5970340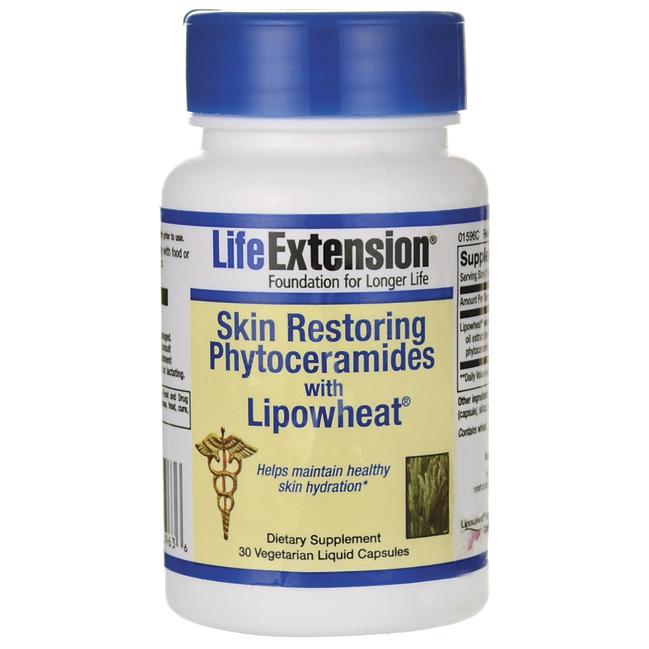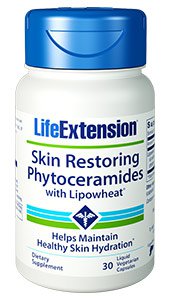 Product Code : LE214
สารอาหารเพื่อบำรุงผิว สารสกัดไฟโตเซอราไมด์ , ไกลโคไลปิด และ ไกลโคซิลเซอราไมด์ ที่มีโครงสร้างพิเศษมากๆ ให้คุณสวยจากภายในสู่ภายนอก
ราคาเดิม 990.00 ฿ ลดทันที 240 ฿
ลดเหลือ 750.00 ฿
Life Extension Skin Restoring Phytoceramides with Lipowheat 350 mg / 30 Liq Vegcap
Life Extension Skin Restoring Phytoceramides with Lipowheat 350 mg / 30 Liq Vegcap สูตรพิเศษที่มีประโยชน์ที่เป็นแหล่งสารอาหารสำหรับรับประทานเพื่อบำรุงผิวจากสารสกัดไฟโตเซอราไมด์ , ไกลโคไลปิด และ ไกลโคซิลเซอราไมด์ ที่มีโครงสร้างพิเศษมากๆ ด้วยกรรมวิธีพิเศษจากการสกัดจากข้าวสาลี (Glycolipids, Phytoceramides and Glycosylceramides) อาหารเสริมนี้ออกแบบสูตรมาเพื่อเสริมความยืดหยุ่นของผิวหนัง เติมความชุ่มชื้นที่เหมาะสมและให้ผิวหนังดูสดชื่นมีชีวิตชีวา สูตรเข้มข้นสำหรับผิวให้ดูอ่อนเยาว์ ช่วยให้ผิวชุ่มชื่นที่ยาวนาน ซึ่งช่วยแก้ปัญหาริ้วรอย กระตุ้นระดับการสร้างเซราไมด์ในผิวที่ลดลงเมื่ออายุมากขึ้น มีโครงสร้างที่พิเศษดูดซึมไว เพราะเซราไมด์จะเป็นส่วนประกอบในการรักษาความชุ่มชื้นและยืดหยุ่นของผิวหนังมากถึง 35%-40% สารสกัดจากน้ำมันข้าวสาลีมอยส์เจอร์ไรเซอร์ธรรมชาติบำรุงผิวเหล่านี้เป็นส่วนประกอบของไขมันที่สำคัญของเซลล์เมมเบรนที่จะช่วยปกป้องผิวพรรณให้ครบองค์ประกอบ ให้ผิวดูอ่อนนุ่มและมีสุขภาพดี
ในการศึกษางานวิจัยหนึ่งครั้ง พบว่า 95% ของผู้เข้าร่วมทดลองในการใช้ Lipowheat® 200 มิลลิกรัม. ต่อวัน ผลการรายงานพบว่า ผิวหนังมีการปรับปรุงรูปลักษณ์และรู้สึกได้ถึงความชุ่มชื้นของผิวพรรณที่ดีขึ้นมากกว่าคนที่ไม่ได้ใช้ผลิตภัณฑ์ชนิดนี้อย่างเห็นได้ชัด โดยวิธีการตรวจแบบ Electrochemical Analysis และ ผู้เข้าร่วมการศึกษาไม่พบการแพ้หรืออาการคันแต่อย่างใด
Life Extension Skin Restoring Phytoceramides with Lipowheat 350 mg / 30 Liq Vegcap
Promotes healthy skin from the inside out

Nutritional support for aging skin

Featuring phytoceramides
30 liquid vegetarian capsules
Benefits at a Glance
Concentrated oral formula for youthful-looking skin
Promotes healthy skin hydration and comfort
Encourages healthy ceramide levels in aging skin
Addresses the challenge of poor ceramide absorption
Skin Deep: the benefits of ceramide oils
Ceramides comprise 35%–40% of the binding matrix that maintains moisture balance and protects the surface of your skin.1,2 These skin-nourishing oils are an important lipid component of the skin's membrane, where they provide protection from the elements and lock in moisture.2-5 But one of the challenges of maintaining supple, healthy skin is that ceramide levels naturally decrease as we age!6,7
Using wheat oils as a natural moisturizer
The ceramides that give younger skin its supple appearance are identical to those found in wheat. That's why wheat-derived oils have been used topically as natural moisturizers for centuries. However, you can't get enough ceramides from topically applied wheat germ oil to have a long-term impact on your skin's appearance.
What's worse, you probably won't be able to obtain enough wheat ceramides from your diet to make a difference, either. The good news is we've combined these skin nourishing oils in a proprietary, highly concentrated ceramide Lipowheat® blend.
Clinically researched Lipowheat® formula
What makes Skin Restoring Phytoceramides with Lipowheat® such an excellent complement to topical products you may already use? Japanese women have had access to ceramides as a functional food since 2000.8
Study verifies improvements in hydration and comfort
In one study, 95% of participants taking 200 mg of Lipowheat® a day reported dramatic improvement in the look and feel of their skin and exhibited improved skin hydration, with results verified by electrochemical analysis. Better yet, the study participants who experienced itching at the onset of the study reported sharp decreases or completely eliminated itching by the study's end.8
Enjoy ageless, healthy-looking skin and replace the ceramides you lose as you age with Skin Restoring Phytoceramides with Lipowheat® - only from Life Extension®!
Supplement Facts
Serving Size 1 liquid vegetarian capsule

Amount Per Serving

Lipowheat® wheat (Triticum vulgare) oil extract (providing glycolipids, phytoceramides and glycosylceramides)

350 mg

Other ingredients: rice bran oil, vegetable cellulose (capsule), silica, rosemary extract.

Contains wheat. Gluten-Free.

Non-GMO
Lipowheat® is a registered trademark of Arco, Robertet Group, France.
Dosage and Use
Take one (1) capsule daily with food or as recommended by a healthcare practitioner.
Warnings
KEEP OUT OF REACH OF CHILDREN
DO NOT EXCEED RECOMMENDED DOSE
Do not purchase if outer seal is broken or damaged.
When using nutritional supplements, please consult with your physician if you are undergoing treatment for a medical condition or if you are pregnant or lactating.
คำเตือน
ผลิตภัณฑ์ ดังกล่าวข้างต้นไม่ใช่ ผลิตภัณฑ์ที่จัดว่าเป็นยา จึงไม่ได้มีสรรพคุณในการรักษาโรคใดๆได้ และการได้รับสารอาหารต่างๆควรได้จากการบริโภคอาหารหลักที่หลากชนิด ครบทั้ง 5 หมู่ เป็นสัดส่วนที่พอเหมาะ ผลการใช้อาจให้ผลที่แตกต่างกันในแต่ละบุคคล ควรเก็บไว้ในที่ร่มให้พ้นแสงแดดและความร้อน และ โปรดอ่านคำเตือนบนฉลากผลิตภัณฑ์หรือเอกสารกำกับผลิตภัณฑ์ก่อนใช้
"ดูแลผิวให้สวยจากภายในสู่ภายนอกด้วย Skin Restoring Phytoceramides with Lipowheat® เท่านั้นจาก Life Extension®! "