สถิติผู้เข้าชมเว็บไซต์
6842610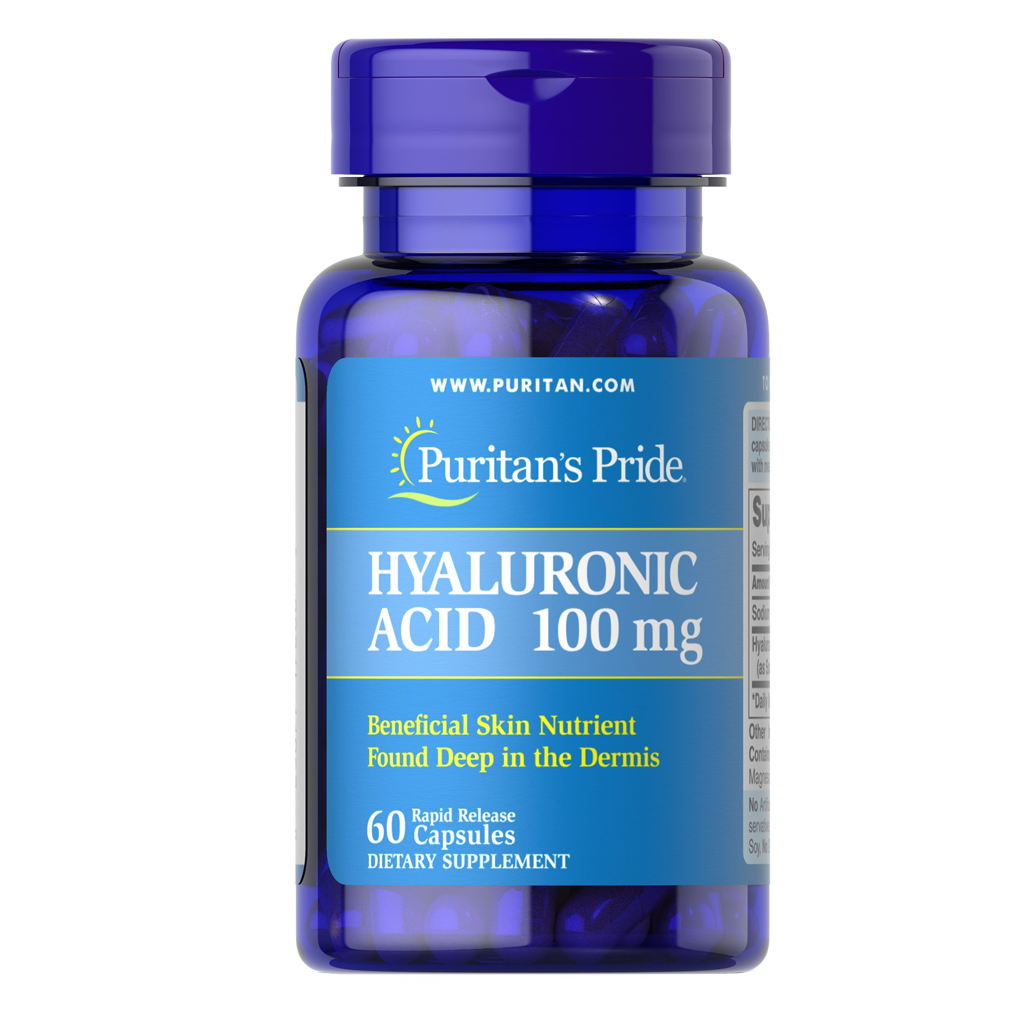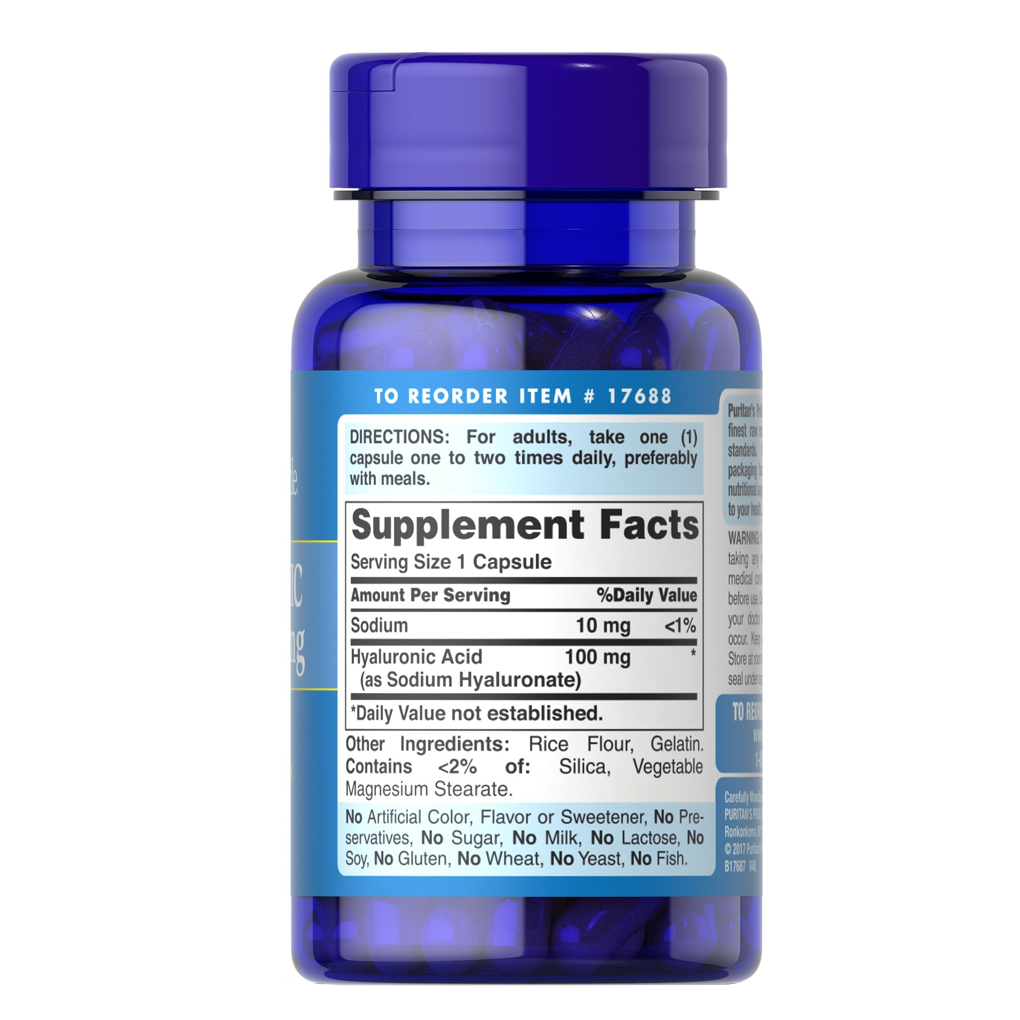 Product Code : 017688
กรดไฮยาลูโรนิค ช่วยเก็บกักความชุ่มชื้นให้แก่ผิว ส่งเสริมระดับน้ำหล่อเลี้ยงไขข้อ ช่วยหล่อลื่นดวงตาและถือว่าเป็นสารต้านอนุมูลอิสระที่สำคัญ
ราคาเดิม 830.00 ฿ ลดทันที 300 ฿
ลดเหลือ 530.00 ฿
Puritan's Pride Hyaluronic Acid 100 mg / 60 Capsules
Puritan's Pride Hyaluronic Acid 100 mg / 60 Capsules ผลิตภัณฑ์เสริมอาหารที่มีสารสำคัญคือกรดไฮยาลูโรนิค (Hyaluronic Acid) มีประโยชน์ต่อร่างกายคือ ช่วยเก็บกักความชุ่มชื้นให้แก่ผิวตามธรรมชาติ ช่วยเก็บกักความชุ่มชื้นภายในเซลล์ให้ความชุ่มชื้นถึงผิวชั้นใน ส่งเสริมระดับน้ำหล่อเลี้ยงไขข้อ ป้องกันข้อเสื่อม อีกทั้งเป็นสารสำคัญที่ช่วยกระบวนการคงไว้ซึ่งความชุ่มชื้นของของเหลวที่ ช่วยหล่อลื่นในดวงตาและถือว่าเป็นสารต้านอนุมูลอิสระที่สำคัญ
A natural component of joints and connective tissue
Helps lubricate joints**
Cushions joints for comfortable movement**
Hyaluronic Acid is a polysaccharide found in almost all adult connective tissue, including joints, ligaments, tendons and skin.** Just one Hyaluronic Acid capsule a day can help maintain the fluid between your joints, providing the cushioning and lubrication necessary for easy movement.** Since the joint fluid (synovial fluid) between your joints is mainly made up of Hyaluronic Acid molecules, taking Hyaluronic Acid in supplement form can contribute to joint lubrication, serving as a supportive structure in the extracellular space throughout the body.**
No Artificial Color, Flavor or Sweetener, No Preservatives, No Sugar, No Milk, No Lactose, No Soy, No Gluten, No Wheat, No Yeast, No Fish.
Supplement Facts

Serving Size 1 Capsule
Amount Per Serving
% Daily Value
Sodium
5 mg <1%
Hyaluronic Acid
100 mg *
(as Sodium Hyaluronate)
*Daily Value not established.
Directions: For adults, take one (1) capsule one to two times daily, preferably with meals.

Other Ingredients: Rice Flour, Gelatin. Contains <2% of: Silica, Vegetable Magnesium Stearate.

WARNING: If you are pregnant, nursing, taking any medications or have any medical condition, consult your doctor before use. Discontinue use and consult your doctor if any adverse reactions occur. Keep out of reach of children. Store at room temperature. Do not use if seal under cap is broken or missing.
คำเตือน
ผลิตภัณฑ์ ดังกล่าวข้างต้นไม่ใช่ ผลิตภัณฑ์ที่จัดว่าเป็นยา จึงไม่ได้มีสรรพคุณในการรักษาโรคใดๆได้ และการได้รับสารอาหารต่างๆควรได้จากการบริโภคอาหารหลักที่หลากชนิด ครบทั้ง 5 หมู่ เป็นสัดส่วนที่พอเหมาะ ผลการใช้อาจให้ผลที่แตกต่างกันในแต่ละบุคคล ควรเก็บไว้ในที่ร่มให้พ้นแสงแดดและความร้อน และ โปรดอ่านคำเตือนบนฉลากผลิตภัณฑ์หรือเอกสารกำกับผลิตภัณฑ์ก่อนใช้