สถิติผู้เข้าชมเว็บไซต์
5970311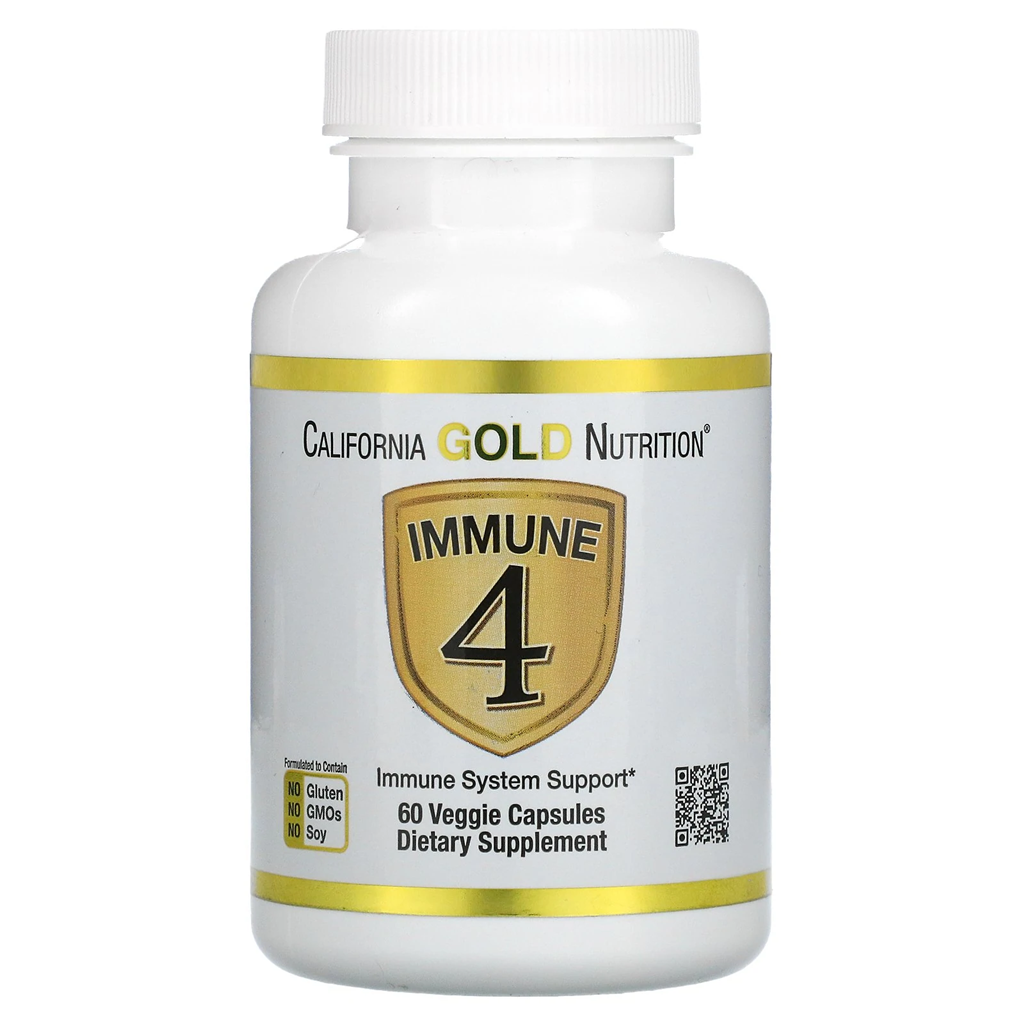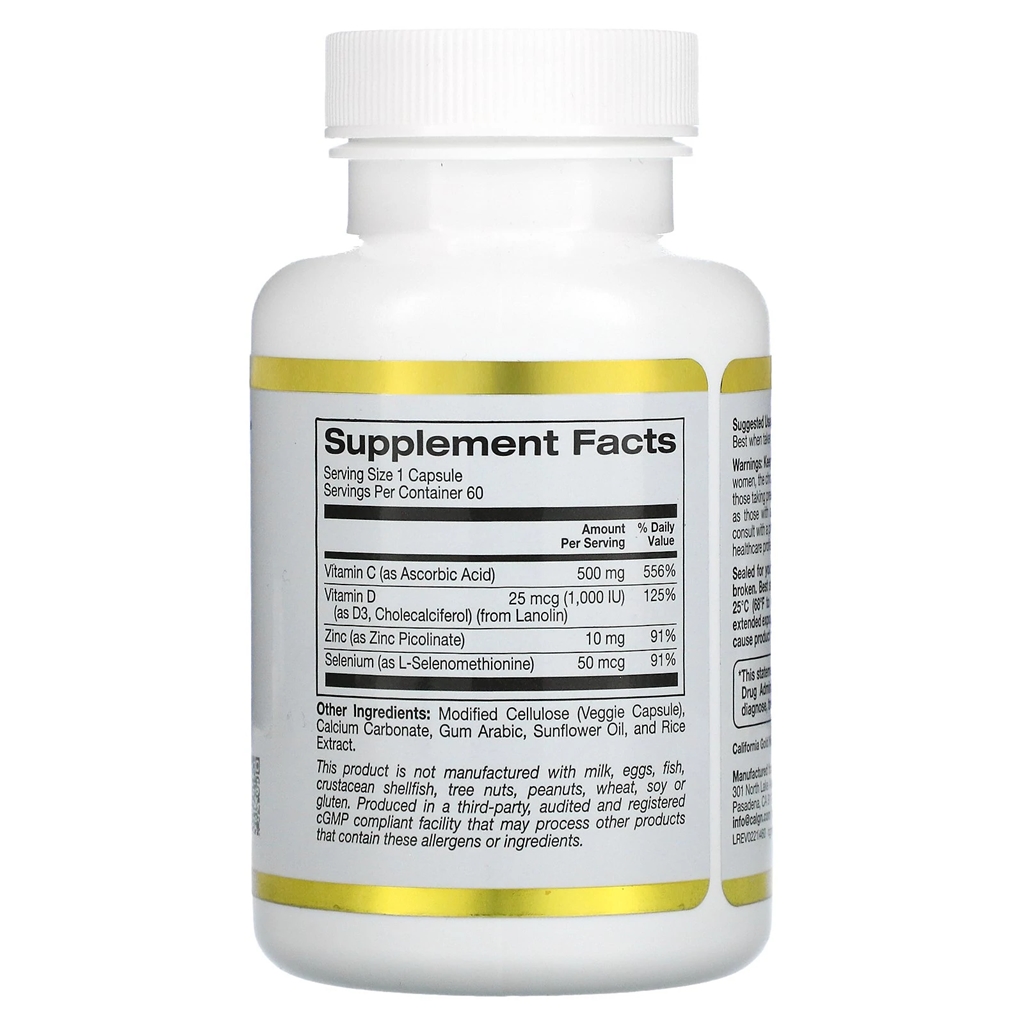 Product Code : CGN-01842
วิตามินซีและดี สังกะสี และซีลีเนียม สนับสนุนระบบภูมิคุ้มกัน ต้านอนุมูลอิสระ ช่วยเพิ่มการทำงานของเซลล์เม็ดเลือดขาวและการผลิตสารเสริมภูมิคุ้มกันของร่างกาย ป้องกันการติดเชื้อทางเดินหายใจ ต่อสู้กับการบุกรุกของแบคทีเรียและไวรัส
ราคาเดิม 395.00 ฿ ลดทันที 100 ฿
ลดเหลือ 295.00 ฿
California Gold Nutrition, Immune 4, 60 Veggie Capsules
California Gold Nutrition, Immune 4, 60 Veggie Capsules ผลิตภัณฑ์เสริมอาหาร ที่มีส่วนผสมของวิตามินและแร่ธาตุ ประกอบด้วยวิตามินซีและดี สังกะสี และซีลีเนียม มีส่วนช่วยสนับสนุนระบบภูมิคุ้มกัน* คนทานมังสวิรัติทานได้ เป็นสูตรที่ไม่มีกลูเตน จีเอ็มโอ หรือถั่วเหลือง โดยวิตามินซีเป็นสารต้านอนุมูลอิสระที่ช่วยเพิ่มการทำงานของเซลล์เม็ดเลือดขาวและการผลิตสารเสริมภูมิคุ้มกันของร่างกายที่รู้จักกันเพื่อช่วยต่อสู้กับไวรัสและแบคทีเรีย* วิตามินดีมีบทบาทสำคัญในการเสริมสร้างการตอบสนองของระบบภูมิคุ้มกันเมื่อถูกท้าทาย และอาจช่วยป้องกันการติดเชื้อทางเดินหายใจได้* สังกะสีสนับสนุนกิจกรรมภูมิคุ้มกันที่สำคัญ เมื่อระดับสังกะสีต่ำ การทำงานของภูมิคุ้มกันโดยรวมจะลดลง โดยเฉพาะอย่างยิ่งการทำงานของเซลล์เม็ดเลือดขาวที่สำคัญในการต่อสู้กับการบุกรุกของแบคทีเรียและไวรัส* ซีลีเนียมมีบทบาทสำคัญในการเสริมสร้างสุขภาพภูมิคุ้มกัน โดยเฉพาะอย่างยิ่งการทำงานของต่อมไทมัส "การควบคุมหลัก" ของระบบภูมิคุ้มกัน*
Description
California Gold Nutrition Immune 4
Vitamin and Mineral Blend Featuring Vitamins C and D, Zinc, and Selenium
Immune System Support*
Suitable for Vegetarians
Formulated without Gluten, GMOs, or Soy
Produced in a 3rd Party Audited cGMP Registered (Certified) Facility
100% Gold Guarantee
Your immune system is the first line of defense from countless contagions, providing the body with protection at the first sign of trouble. California Gold Nutrition Immune 4 can help you shield your health by providing extra immune support when you need it the most.*
Immune Support Vitamins and Minerals
Our Immune 4 supplement is formulated with a combination of four clinically-studied vitamins and minerals to help promote a healthy immune system.* Every capsule contains a powerful dose of vitamins C and D, zinc, and selenium.
Vitamin C is an antioxidant that enhances white blood cell functions and the body's own production of immune enhancing compounds known to help fight off viruses and bacteria.*
Vitamin D plays a critical role in enhancing the immune system response when it is challenged, and may help to protect against respiratory infections.*
Zinc supports important immune activity. When zinc levels are low, overall immune function plummets, especially white blood cell activity critical in fighting off invading bacteria and viruses.*
Selenium plays an essential role in strengthening immune health, especially the function of the thymus gland, the "master control" of the immune system.*
California Gold Nutrition Immune 4 features a quality vitamin and mineral blend in veggie capsules. It is suitable for vegetarians and formulated without gluten, GMOs, or soy.
Supplement Facts
Serving Size: 1 Capsule
Servings Per Container: 60
Amount Per Serving
%Daily Value
Vitamin C (as Ascorbic Acid)
500 mg
556%
Vitamin D
(as D3, Cholecalciferol) (from Lanolin)
25 mcg (1,000 IU)
125%
Zinc (as Zinc Picolinate)
10 mg
91%
Selenium (as L-Selenomethionine)
50 mcg
91%
Main Ingredients
Vitamin C (as Ascorbic Acid), Vitamin D (as D3, Cholecalciferol) (from Lanolin), Zinc (as Zinc Picolinate), Selenium (as L-Selenomethionine)
Other Ingredients
Modified Cellulose (Veggie Capsule), Calcium Carbonate, Rice Hulls, Rice Extract, Gum Arabic, and Sunflower Oil.
This product is not manufactured with milk, eggs, fish, crustacean shellfish, tree nuts, peanuts, wheat, soy, sesame, or gluten. Produced in a third-party, audited and registered cGMP compliant facility that may process other products that contain these allergens or ingredients.
Suggested Use
Take 1 capsule, once or twice daily with food. Best when taken as directed by a qualified healthcare professional.
Warnings
Keep out of reach of children. Pregnant or lactating women, the chronically ill, elderly, individuals under the age of 18, those taking prescription medications (e.g., blood thinners) as well as those with a physician-diagnosed medical condition should consult with a physician, pharmacist, naturopath or other qualified healthcare professional prior to taking dietary supplements.
Sealed for your protection. Do not use if seal is missing or broken. Best stored at controlled room temperature 20°C to 25°C (68°F to 77°F). Improper storage conditions, such as extended exposure to direct sunlight, high heat & humidity can cause product degradation over time.
คำเตือน
ผลิตภัณฑ์ ดังกล่าวข้างต้นไม่ใช่ ผลิตภัณฑ์ที่จัดว่าเป็นยา จึงไม่ได้มีสรรพคุณในการรักษาโรคใดๆได้ และการได้รับสารอาหารต่างๆควรได้จากการบริโภคอาหารหลักที่หลากชนิด ครบทั้ง 5 หมู่ เป็นสัดส่วนที่พอเหมาะ ผลการใช้อาจให้ผลที่แตกต่างกันในแต่ละบุคคล ควรเก็บไว้ในที่ร่มให้พ้นแสงแดดและความร้อน และ โปรดอ่านคำเตือนบนฉลากผลิตภัณฑ์หรือเอกสารกำกับผลิตภัณฑ์ก่อนใช้