สถิติผู้เข้าชมเว็บไซต์
5970164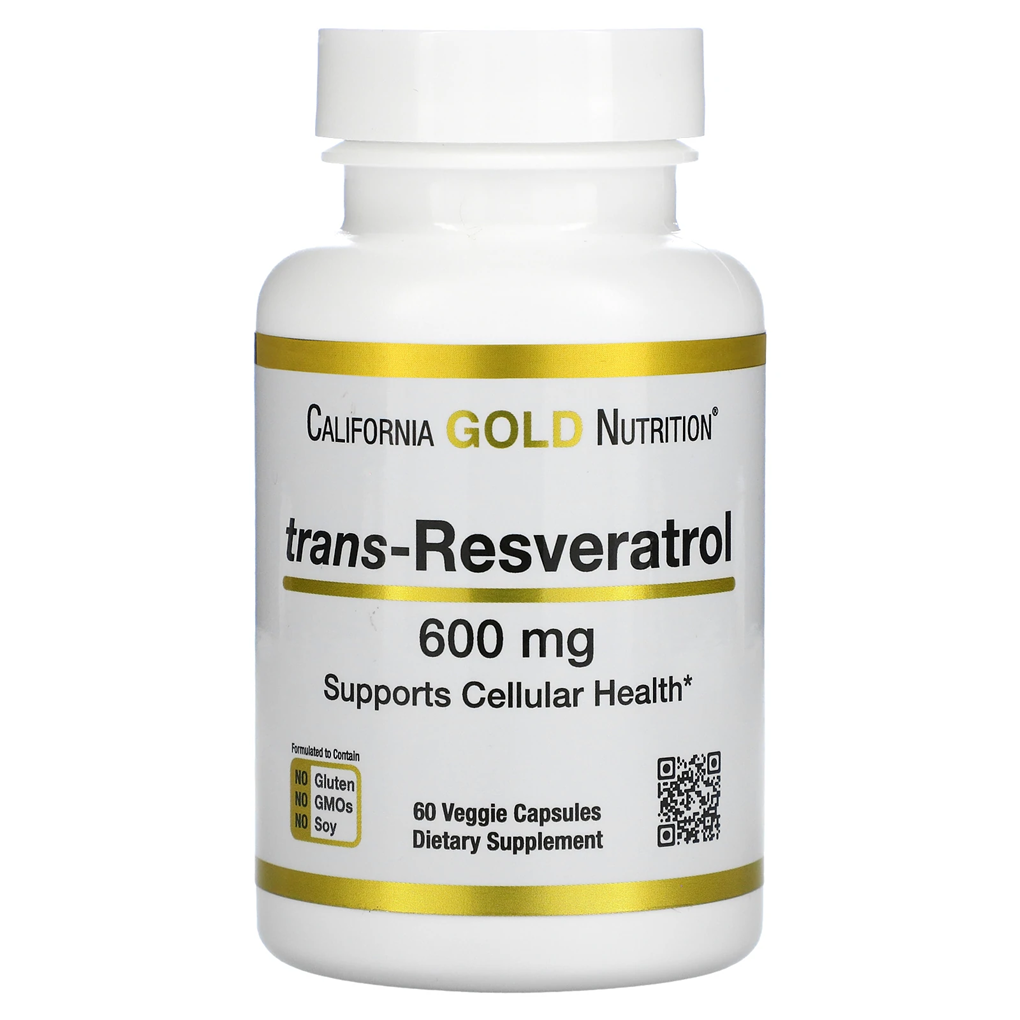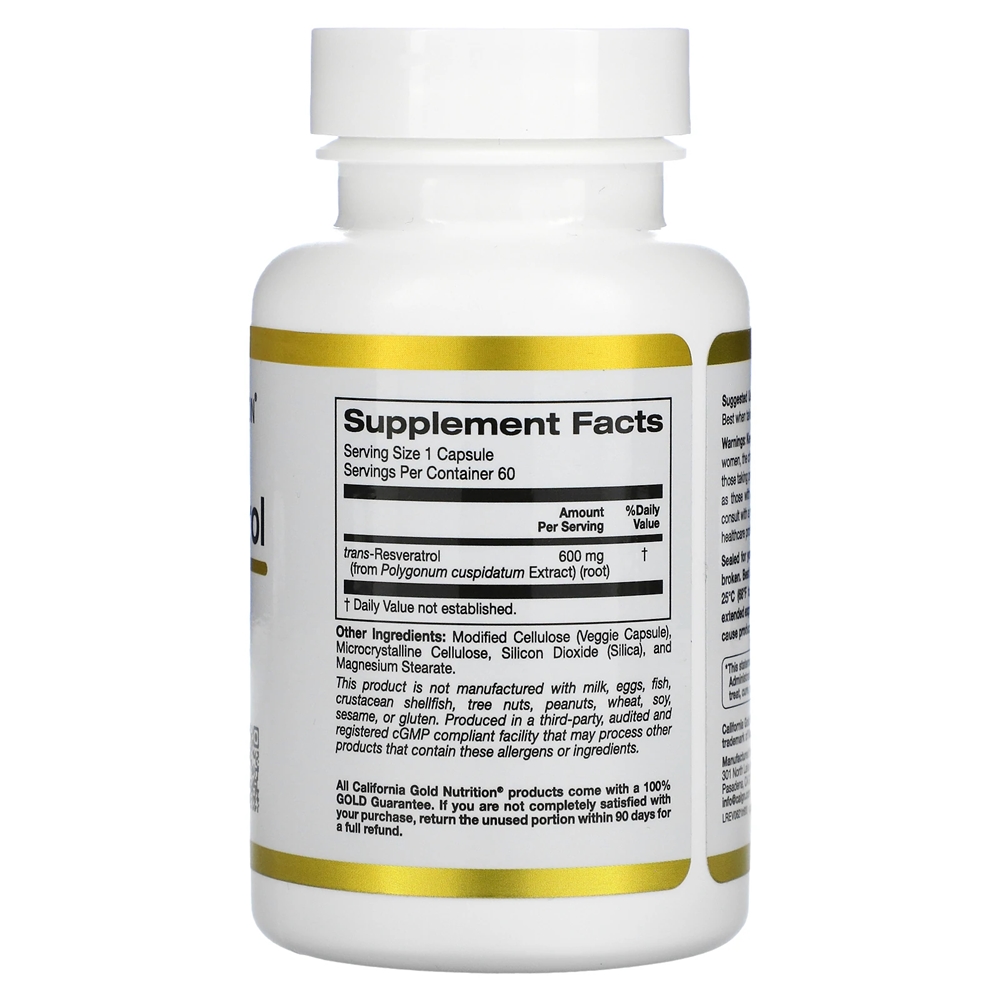 Product Code : CGN-02004
ทรานส์-เรสเวอราทรอล บริสุทธิ์ 98% เข้มข้นสูง 600 มก. ต้านอนุมูลอิสระที่ทรงพลัง ฟอร์มที่ดูดซึมไว ส่งเสริมความไวของอินซูลิน จากอิตาลี ปราศจาก Emodin & PAHs ต้านการอักเสบที่ดี สนับสนุนการทำงานของหัวใจและหลอดเลือดให้ดียิ่งขึ้น
ราคาเดิม 1,890.00 ฿ ลดทันที 400 ฿
ลดเหลือ 1,490.00 ฿
California Gold Nutrition, Trans-Resveratrol, 600 mg , 60 Veggie Capsules
California Gold Nutrition, Trans-Resveratrol, 600 mg , 60 Veggie Capsules ผลิตภัณฑ์เสริมอาหาร California Gold Nutrition trans-Resveratrol ที่มาจากอิตาลี เป็นโพลีฟีนอลที่ประสิทธิภาพสูง ปราศจาก Emodin & PAHs ซึ่งมีความพิเศษ เป็นทรานส์เรสเวอราทรอลบริสุทธิ์ 98% เข้มข้นสูง 600 มก. รองรับการทำงานของหัวใจและหลอดเลือดที่ดีต่อสุขภาพ* รองรับสารต้านอนุมูลอิสระและต้านความแก่ ปกป้องอวัยวะต่างๆ คุณสมบัติต่อต้านริ้วรอยระดับเซลล์* ส่งเสริมความไวของอินซูลิน เป็นสูตรที่ประกอบด้วย: ไม่มีกลูเตน, ไม่มีจีเอ็มโอ, ไม่มีถั่วเหลือง
***โดยทรานซ์-เรสเวอราทรอล ฟอร์มนี้ เราขอนำเสนอ Veri-te™ ที่มาจากอิตาลี Resveratrol รูปแบบนี้ผลิตขึ้นโดยใช้กระบวนการหมักยีสต์ที่เป็นนวัตกรรมใหม่ ซึ่งส่งผลให้มี trans-Resveratrol บริสุทธิ์ 98% ซึ่งปราศจากสารปนเปื้อนเช่น Emodin และ Polycyclic Aromatic Hydrocarbons (PAHs) ซึ่งมักพบในสารสกัดที่ไม่บริสุทธิ์ที่ได้จาก Knotweed ของญี่ปุ่น (Polygonum cuspidatum) )
Description
California Gold Nutrition trans-Resveratrol

98% Pure trans-Resveratrol

Supports Healthy Cardiovascular Function*

Supports Cellular Health*

Suitable for Vegetarians and Vegans

No Gluten, No GMOs, No Soy

100% Gold Guarantee
Containing trans-resveratrol derived from the root of the Japanese knotweed (Polygonum cuspidatum), this supplement delivers high-potency in a single dose. The natural properties of trans-resveratrol can support cellular health, providing antioxidant benefits and potential protection from free radical damage.*
What is trans-Resveratrol?
Trans-resveratrol is a natural compound that is found in some plants and roots, including grapes and Japanese knotweed. For centuries, people have recognized the potential health benefits of this substance, as it has been used in many forms of traditional medicine.
California Gold Nutrition trans-Resveratrol contains 98% pure trans-resveratrol in veggie capsules.
Supplement Facts
Serving Size: 1 Capsule
Servings Per Container: 60
Amount Per Serving
%Daily Value
trans-Resveratrol
(from Polygonum cuspidatum Extract) (root)
600 mg
†
†Daily Value not established.
UPC : 898220020041
Ingredients
Main Ingredients
trans-Resveratrol (from Polygonum Cuspidatum Extract)
Other Ingredients
Modified Cellulose (Veggie Capsule), Microcrystalline Cellulose, Silicon Dioxide (Silica), and Magnesium Stearate.
This product is not manufactured with milk, eggs, fish, crustacean shellfish, tree nuts, peanuts, wheat, soy, sesame, or gluten. Produced in a third-party, audited and registered cGMP compliant facility that may process other products that contain these allergens or ingredients.
Suggested Use
Take 1 capsule daily, with or without food. Best when taken as directed by a qualified healthcare professional.
Warnings
Keep out of reach of children. Pregnant or lactating women, the chronically ill, elderly, individuals under the age of 18, those taking prescription medications (e.g., blood thinners) as well as those with a physician-diagnosed medical condition should consult with a physician, pharmacist, naturopath or other qualified healthcare professional prior to taking dietary supplements.
Sealed for your protection. Do not use if seal is missing or broken. Best stored at controlled room temperature 20°C to 25°C (68°F to 77°F). Improper storage conditions, such as extended exposure to direct sunlight, high heat & humidity can cause product degradation over time.
คำเตือน
ผลิตภัณฑ์ ดังกล่าวข้างต้นไม่ใช่ ผลิตภัณฑ์ที่จัดว่าเป็นยา จึงไม่ได้มีสรรพคุณในการรักษาโรคใดๆได้ และการได้รับสารอาหารต่างๆควรได้จากการบริโภคอาหารหลักที่หลากชนิด ครบทั้ง 5 หมู่ เป็นสัดส่วนที่พอเหมาะ ผลการใช้อาจให้ผลที่แตกต่างกันในแต่ละบุคคล ควรเก็บไว้ในที่ร่มให้พ้นแสงแดดและความร้อน และ โปรดอ่านคำเตือนบนฉลากผลิตภัณฑ์หรือเอกสารกำกับผลิตภัณฑ์ก่อนใช้