สถิติผู้เข้าชมเว็บไซต์
5970326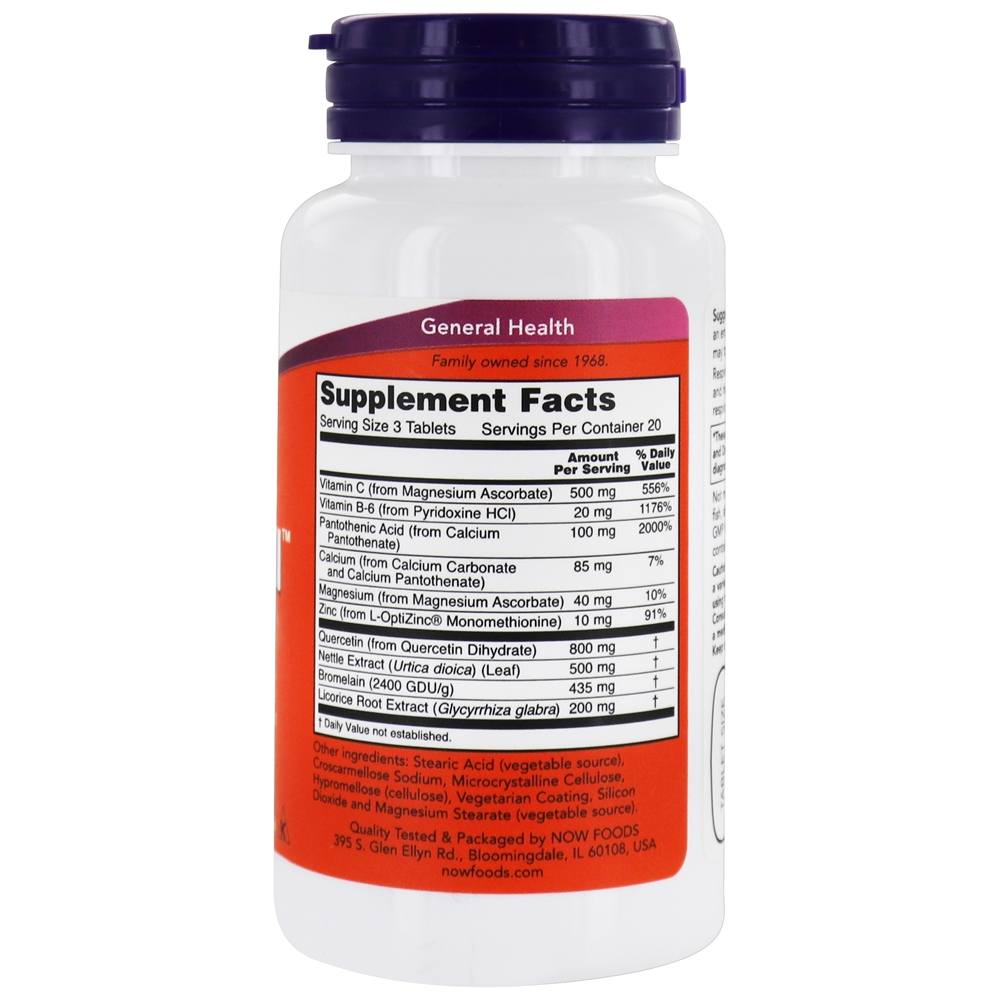 Product Code : 53174
ป้องกันในทางเดินหายใจ ช่วยให้คุณหายใจได้คล่องขึ้น ทั้งในภาวะปัญหา ฝุ่น PM 2.5 แก้ปัญหาโรคภูมิแพ้ทางเดินหายใจ ปรับการตอบสนองของฮีสตามีนให้เป็นปกติ ตอบสนองต่อการอักเสบและเสริมภูมิคุ้มกัน
ราคาเดิม 990.00 ฿ ลดทันที 300 ฿
ลดเหลือ 690.00 ฿
NOW Foods Respir-All Respiratory Support - 60 Tablets (Formerly Allergy Support)
NOW Foods Respir-All Respiratory Support - 60 Tablets (Formerly Allergy Support) ผลิตภัณฑ์เสริมอาหาร Now Foods Respir-All ได้ผลิตขึ้นเพื่อส่งเสริมระบบป้องกันในทางเดินหายใจ ยิ่งในสภาวะที่อากาศมีฝุ่นละออง PM 2.5 หรือขนาดต่ำกว่า จะช่วยสามารถให้คุณหายใจได้คล่องขึ้น เป็นการผสมผสานระหว่างวิตามินแร่ธาตุและสมุนไพรอย่างสมดุล ช่วยแก้ปัญหาในผู้ที่เป็นโรคภูมิแพ้ทางเดินหายใจตามฤดูกาล ทั้งช่วยให้ได้รับสารอาหารจากธรรมชาติซึ่งเป็นที่รู้จักโดยเฉพาะอย่างยิ่งสำหรับความสามารถในการปรับการตอบสนองของฮีสตามีนของร่างกายให้เป็นปกติถึงปานกลาง ส่งเสริมการตอบสนองต่อการอักเสบและสนับสนุนการทำงานของภูมิคุ้มกันโดยรวมของร่างกายให้แข็งแรง ถือว่าเป็นทางเลือกที่ปลอดภัยและเป็นธรรมชาติที่มีประสิทธิภาพ
NOW Foods Respir-All Respiratory Support - 60 Tablets (Formerly Allergy Support)
Now Foods Respir-All offers sound protection that can help you breathe easier all year round! Formerly known as Now Foods Allergy Support, Now Foods Respir-All is a well-balanced blend of vitamins, minerals and herbs provides seasonal allergy sufferers with a natural source of nutrients known especially for their ability to normalize our body's histamine response, to moderate or immune system's inflammatory response and to support our body's healthy overall immune function. Now Foods Respir-All is a safe and natural alternative to many over the counter formulas.
Respiratory Support
With Quercetin, Vitamin C, Neetle Extract & Bromelain
Oval Tablet
Vegan & Vegetarian
Free of Gluten, Soy, Nut, Dairy & Egg
Kosher
Suggested Use
As a dietary supplement take 3 tablets daily, preferably on an empty stomach. Persons with sensitive stomachs may take with food.
Supplement Facts
Serving Size: 3 Tablets
- Vitamin C (from Magnesium Ascorbate) ..... 500 mg 556%

- Vitamin B-6 (from Pyridoxine HCl) ..... 20 mg 1176%

- Pantothenic Acid (from Calcium Pantothenate) ..... 100 mg 2000%

- Calcium (from Calcium Carbonate and Calcium Pantothenate) ..... 85 mg 7%

- Magnesium (from Magnesium Ascorbate) ..... 40 mg 10%

- Zinc (from L-OptiZincTM Monomethionine) ..... 10 mg 91%

- Quercetin (from Quercetin Dihydrate) ..... 800 mg †

- Nettle Extract (Urtica dioica) (leaf) ..... 500 mg †

- Bromelain (2400 GDU/g) ..... 435 mg †

- Licorice Root Extract (Glycyrrhiza glabra) ..... 200 mg †


Other Ingredients: Stearic Acid (vegetable source), Croscarmellose Sodium, Microcrystalline Cellulose, Hypromellose (cellulose), Vegetarian Coating, Silicon Dioxide and Magnesium Stearate (vegetable source).
Not manufactured with wheat, gluten, soy, milk, egg, fish, shellfish or tree nut ingredients. Produced in a GMP facility that processes other ingredients containing these allergens.
Warnings
Caution: For adults only. Quercetin may interact with a variety of medications; consult physician before using this product if taking prescription drugs. Consult physician if pregnant/nursing, or have a medical condition (especially kidney dysfunction). Keep out of reach of children.
คำเตือน
ผลิตภัณฑ์ ดังกล่าวข้างต้นไม่ใช่ ผลิตภัณฑ์ที่จัดว่าเป็นยา จึงไม่ได้มีสรรพคุณในการรักษาโรคใดๆได้ และการได้รับสารอาหารต่างๆควรได้จากการบริโภคอาหารหลักที่หลากชนิด ครบทั้ง 5 หมู่ เป็นสัดส่วนที่พอเหมาะ ผลการใช้อาจให้ผลที่แตกต่างกันในแต่ละบุคคล ควรเก็บไว้ในที่ร่มให้พ้นแสงแดดและความร้อน และ โปรดอ่านคำเตือนบนฉลากผลิตภัณฑ์หรือเอกสารกำกับผลิตภัณฑ์ก่อนใช้