สถิติผู้เข้าชมเว็บไซต์
5713816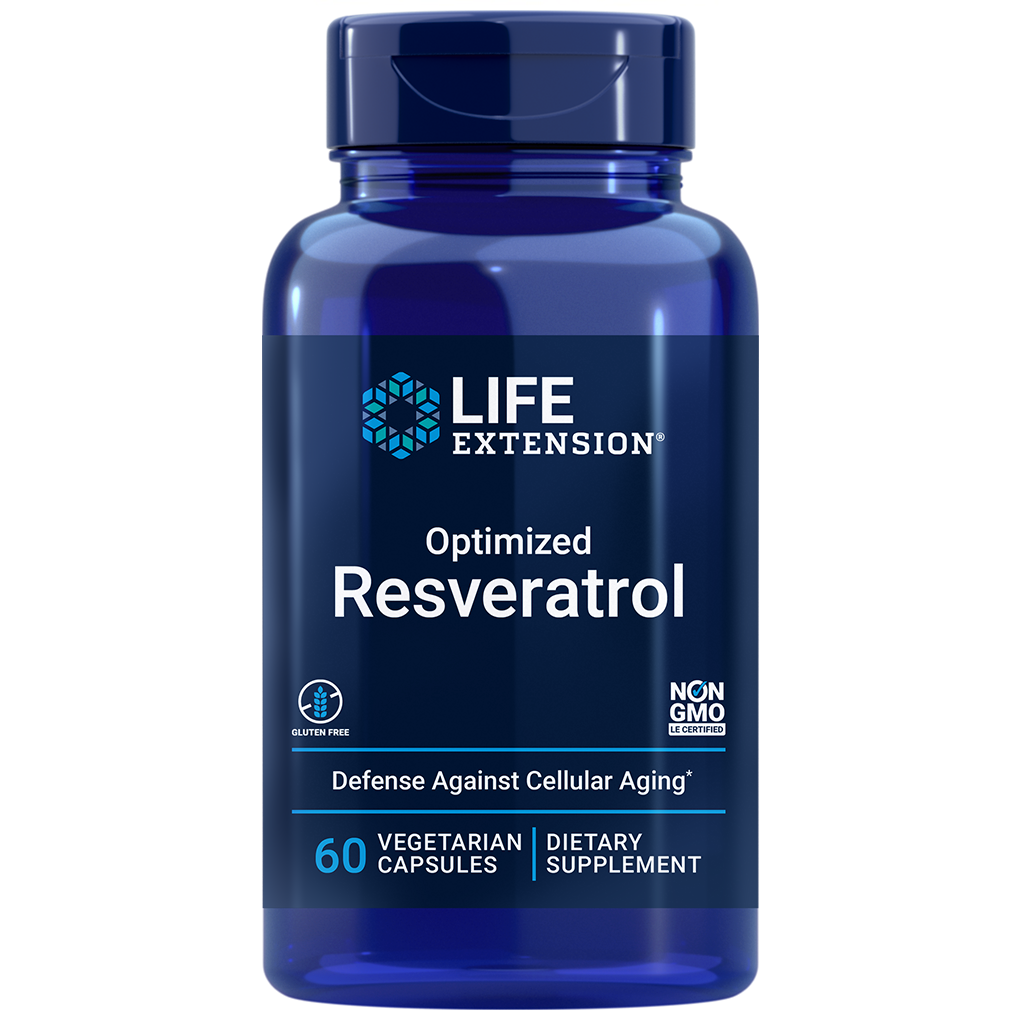 Product Code : 02230
สูตรต้านอนุมูลอิสระที่ทรงพลัง ฟอร์มที่ดูดซึมไว ออกฤทธิ์ได้อย่างมีประสิทธิภาพ ส่งเสริมความไวของอินซูลิน กระตุ้นการทำงานของ mitochondrial ตอบสนองต่อการอักเสบที่ดี สนับสนุนการทำงานของหัวใจและหลอดเลือดให้ดียิ่งขึ้น
ราคาเดิม 1,659.00 ฿ ลดทันที 500 ฿
ลดเหลือ 1,159.00 ฿
Life Extension Optimized Resveratrol / 60 Vegetarian Capsules
Life Extension Optimized Resveratrol / 60 Vegetarian Capsules ผลิตภัณฑ์เสริมอาหาร Optimized Resveratrol สูตรต้านอนุมูลอิสระที่ทรงพลัง มีสารออกฤทธิ์ได้แก่ Trans-Resveratrol [from Japanese knotweed (root)] , Quercetin (as quercetin dihydrate) , Grape (fruit) and wild blueberry (fruit) blend [providing polyphenols, anthocyanins, OPCs] และ Fisetin [from wax tree extract (stem)] ซึ่งอยู่ในฟอร์มที่ดูดซึมไว ออกฤทธิ์ได้อย่างมีประสิทธิภาพ Resveratrol ช่วยส่งเสริมและรักษาสุขภาพที่ดีเพื่ออายุที่ยืนยาว สูตรพิเศษนี้ ยังส่งเสริมความไวของอินซูลินที่ดีต่อสุขภาพ กระตุ้นการทำงานของ mitochondrial ที่เพิ่มขึ้น สนับสนุนการตอบสนองต่อการอักเสบที่ดี สนับสนุนการทำงานของหัวใจและหลอดเลือดให้ดียิ่งขึ้น ส่งเสริมการแบ่งเซลล์ที่ดี ช่วยรักษาความดันโลหิตให้ปกติ ช่วยให้การแสดงออกของยีนที่อ่อนเยาว์อีกด้วย
Life Extension Optimized Resveratrol / 60 Vegetarian Capsules
Resveratrol helps promote and maintain optimal health and longevity. Our Optimized Resveratrol formula contains trans-resveratrol, the form abundant in red wine and associated with beneficial biological effects. Resveratrol also promotes healthy insulin sensitivity, encourages enhanced mitochondrial function, supports a healthy inflammatory response and has demonstrated beneficial cardiovascular activity.
Augmenting resveratrol with quercetin & fisetin
Our formula also delivers quercetin and fisetin, botanical compounds that complement resveratrol. Fisetin helps inhibit oxidative stress and promotes a healthy inflammatory response, helps maintain mitochondrial function and has been widely studied for its neuroprotective properties and ability to promote healthy cell division.
Quercetin is an important bioflavonoid that also helps inhibit oxidative stress and promotes a healthy inflammatory response, promotes cardiovascular health and helps maintain already-healthy blood pressure. Quercetin also promotes neurological health and supports healthy cell division.
Optimized Resveratrol also includes a grape and wild blueberry blend packed with additional polyphenols, anthocyanins and more to promote longevity and youthful gene expression.
Serving Size 1 vegetarian capsule

Amount Per Serving

Trans-Resveratrol [from Japanese knotweed (root)]

250 mg

Quercetin (as quercetin dihydrate)

150 mg

Grape (fruit) and wild blueberry (fruit) blend [providing polyphenols, anthocyanins, OPCs]

85 mg

Fisetin [from wax tree extract (stem)]

10 mg

Other ingredients: vegetable cellulose (capsule), microcrystalline cellulose, vegetable stearate, silica, maltodextrin.
Non-GMO
Dosage and Use
Take one (1) capsule daily, or as recommended by a healthcare practitioner.
Warnings
KEEP OUT OF REACH OF CHILDREN
DO NOT EXCEED RECOMMENDED DOSE
Do not purchase if outer seal is broken or damaged.
When using nutritional supplements, please consult with your physician if you are undergoing treatment for a medical condition or if you are pregnant or lactating.
คำเตือน
ผลิตภัณฑ์ ดังกล่าวข้างต้นไม่ใช่ ผลิตภัณฑ์ที่จัดว่าเป็นยา จึงไม่ได้มีสรรพคุณในการรักษาโรคใดๆได้ และการได้รับสารอาหารต่างๆควรได้จากการบริโภคอาหารหลักที่หลากชนิด ครบทั้ง 5 หมู่ เป็นสัดส่วนที่พอเหมาะ ผลการใช้อาจให้ผลที่แตกต่างกันในแต่ละบุคคล ควรเก็บไว้ในที่ร่มให้พ้นแสงแดดและความร้อน และ โปรดอ่านคำเตือนบนฉลากผลิตภัณฑ์หรือเอกสารกำกับผลิตภัณฑ์ก่อนใช้