สถิติผู้เข้าชมเว็บไซต์
5591047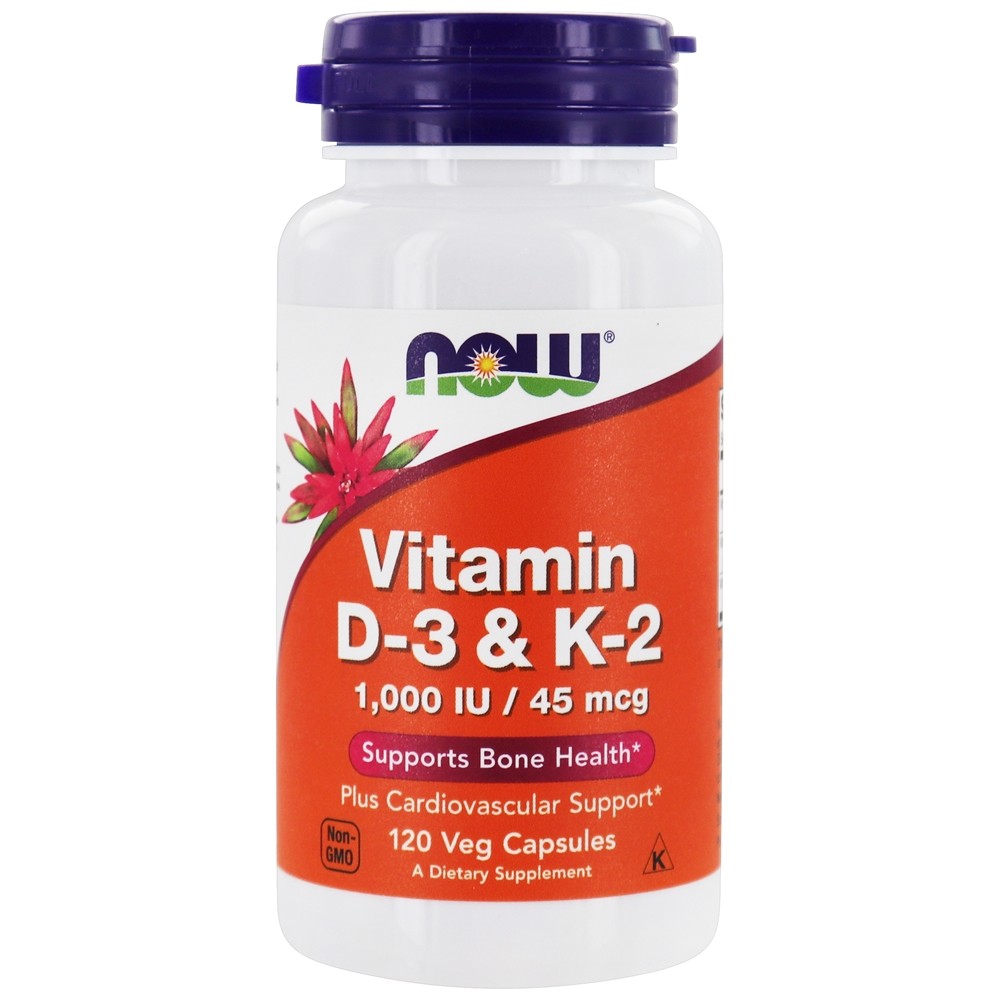 Product Code : 72267
วิตามินดี-3 รวมกับ วิตามิน เค-2 ออกฤทธิ์ส่งเสริมซึ่งกันและกัน ช่วยต้านอนุมูลอิสระ เสริมภูมิคุ้มกัน ควบคุมระดับแคลเซียมในเลือด มีความสำคัญในการสร้างกระดูกและฟัน ป้องกันหลอดเลือดหัวใจ
ราคาเดิม 590.00 ฿ ลดทันที 145 ฿
ลดเหลือ 445.00 ฿
Now Foods Vitamin D-3 & K-2 -1000IU/45 mcg. / 120 Vegetable Capsule
Now Foods Vitamin D-3 & K-2 -1000IU/45 mcg. / 120 Vegetable Capsule ผลิตภัณฑ์เสริมอาหารวิตามินดี-3 (Vitamin D3) รวมกับ วิตามิน K2 [Vitamin K2(as Menaquinone-4) (MK-4)] เป็นสูตรที่ให้ความสมดุล ออกฤทธิ์ส่งเสริมซึ่งกันและกัน ซึ่ง Vitamin D3 ให้การสนับสนุนกระบวนการทำงานของร่างกายหลายอย่าง เช่น ช่วยต้านการเกิดอนุมูลอิสระ (Oxidative Stress) มีความสำคัญในการส่งเสริมประสิทธิภาพการทำงานให้ปกติของระบบภูมิคุ้มกัน เกี่ยวข้องกับการช่วยควบคุมระดับแคลเซียมในเลือด มีความสำคัญในการสร้างกระดูกและฟัน และการเจริญเติบโตของร่างกาย ปกติทั่วไปวิตามินดีนั้นจะถูกเปลี่ยนให้อยู่ในรูปวิตามินดี 3 (Vitamin D3) การเปลี่ยนรูปอย่างไม่สมบูรณ์ของวิตามินดี อาจก่อให้เกิดปัญหา ในเรื่องของสภาวะขาดแคลนวิตามินดีได้ ด้วยเหตุนี้แพทย์จึงแนะนำให้ผู้ที่รับประทานวิตามินดี เสริมอาหารในรูปแบบที่พร้อมทำงานได้ทันที ซึ่งนั่นก็คือ วิตามินดี 3 (Vitamin D3) และที่มี วิตามินเค 2 (Vitamin K2) หรือ เมนาควิโนน (Menaquinone) จะช่วยเสริมการดูดซึมที่เพิ่มขึ้นของแคลเซียมและฟอสฟอรัสที่จำเป็นสำหรับกระดูกที่แข็งแรง ป้องกันการเกิดกระดูกหักกระดูกใหม่และช่วยรักษาความหนาแน่นของกระดูก มีการวิจัยในปี 2017 ออกมาว่า วิตามินเค 2 มีความสำคัญมากพอๆ กับร่างกายของเรา คือไปช่วยเสริมสร้างแคลเซียมใด้อย่างดี ปกป้องริ้วรอย ช่วยให้กระดูกและฟันเข็งแรง ป้องกันความเสี่ยงหัวใจและหลอดเลือด โดยเฉพาะหลอดเลือดดำ เป็นต้น
DESCRIPTION
Now Foods Vitamin D-3 and K-2 1000 IU - 120 Vegetable Capsules
Free Yourself from Vitamin D3 & K2 Deficiency for Better Health
Many vitamins play an important role in keeping your body in peak condition. Vitamins D3 and K2 work together to boost the wellness of your teeth, bones, heart, and circulatory system, but they're often overlooked. NOW Foods Vitamin D3 & K2 Vegetable Capsules help to correct this, providing 25 mcg of D3 as cholecalciferol and 45 mcg of K2. This provides a solid dose of high quality nutrients to help maintain both bone health and cardiovascular condition in adults. These vitamins are offered in a highly absorbable form so your body won't have any trouble accessing them. Delivered in capsules, they break down easily in the stomach and will get into your metabolism fast, with little chance of just getting passed by your digestive system.
Your Bones with Thank You for a Strengthening Dose of K2
Vitamin K2 is the kind of vitamin K that your body can use most easily, and usually comes from specific fermented foods. NOW Foods D3 & K2 Vegetarian Capsules offer up this rare, health-boosting vitamin in a good dose to help support your bones. K2 ensures that calcium, magnesium, and other minerals bind correctly into the bones to strengthen them, rather than calcifying in soft tissues. Vitamin K2 is useful not only in stopping the progress of osteoporosis but also reversing it, helping to increase bone density to the point where fractures become far less likely.
Worried about Calcification? K2 Lets You Relax and Enjoy the Benefits
Other vital functions related to K2 involve the heart. When you take NOW Foods D3 & K2 Vegetarian Capsules, you're no longer among the approximately 50% of American adults who have a vitamin K2 deficiency. K2 – along with magnesium and vitamin D3 – move calcium out of the veins or heart, where it can cause problems, and to the bones where it needs to crystallize and be deposited. This process aids greatly not just in reinforcing your bones, but in maintaining a clean bill of health when it comes to cardiovascular well-being.
Ensure Proper Calcium Transport with Plenty of Vitamin D3
The vitamin K2 in NOW Foods D3 & K2 Vegetarian Capsules is paired up with vitamin D3. This vitamin assists vitamin K2 in performing its health functions, including getting calcium to the bones where it's needed rather than in areas of the body where it isn't. Besides its positive effects on calcium transport, this vitamin may also provide a major boost to your immune system's ability to defend your body against infectious germs. It's an especially crucial supplement in the winter months when short days and frequent clouds mean people get even less of the "sunshine vitamin" than in summer.
Mental Clarity, Better Immunity, and Glucose Regulation
The dosage of D3 in NOW Foods D3 & K2 Vegetarian Capsules is 250% of DV, giving your body other possible boosts, too. Since it's an immune system regulator, it may be able to help alleviate some autoimmune symptoms, according to certain studies. It also improves brain health and cognition, especially in elderly people, giving you an edge in staying alert and positive. It's also thought to have beneficial effects on the modulation of insulin, while helping your body to process glucose properly rather than letting it build up in the blood.
Formulated for Today's Healthy Supplement Standards
NOW Foods D3 & K2 Vegetarian Capsules are made to be usable by people with a variety of dietary restrictions. The capsules are made out of cellulose, with rice flour filler, so this supplement is vegetarian. It is fully certified as both halal and kosher. All ingredients are non-GMO verified, and additionally are gluten-free, dairy-free, egg-free, and contain no soy. Whether you avoid certain foods due to beliefs or allergies, NOW has you covered.
Now Foods Vitamin D-3 and K-2 combines two nutrients extensively researched for their benefits for the bones, teeth and cardiovascular system. Now Foods Vitamin D3 promotes calcium absorption and calcium transport to bones. Recent studies indicate that Now Foods Vitamin D3 may support healthy insulin action and glucose metabolism and may have a positive impact on immune function. Now Foods Vitamin K2, likewise is beneficial in the areas of bone and cardiovascular health. Now Foods Vitamin K is critical for the formation of healthy strong bone matrix. Bone quality is dependent on the presence of adequate Vitamin K. Vitamin K's role in arterial health revolves around its ability to support proper calcium metabolism in vascular structures. Now Foods Vitamin K2 is the most biologically active form of Vitamin K.
1,000 IU / 45 mcg
Supports Bone Health
Plus Cardiovascular Support
Halal & Kosher
Non-GMO
Free of Gluten, Dairy, Egg & Soy
SUGGESTED USE
As a dietary supplement, take 1 Veg Capsule 1 to 2 times daily with food. Store in a cool, dry place after opening. Please Recycle.
Supplement Facts
Serving Size: 1 Veg Capsule
Servings Per Container: 120
Amount Per Serving
%DV
Vitamin C(from Ascorbyl Palmitate)
3 mg
3 %
Vitamin D3(as Cholecalciferol) (from Lanolin)
25 mcg (1000 IU)
125 %
Vitamin K2(as Menaquinone-4) (MK-4)
45 mcg
38 %
*Daily Value Not Established
Other Ingredients: Rice Flour, Cellulose (capsule) and Silica.
Not manufactured with wheat, gluten, soy, milk, egg, fish, shellfish or tree nut ingredients. Produced in a GMP facility that processes other ingredients containing these allergens.
WARNINGS
Caution: For adults only. Consult physician if pregnant/nursing, taking any anti-coagulant (such as warfarin, coumadin, heparin) or other medication, or have a medical condition. Keep out of reach of children.
Do Not Eat Freshness Packet. Keep in Bottle. Natural color variation may occur in this product.
คำเตือน
ผลิตภัณฑ์ ดังกล่าวข้างต้นไม่ใช่ ผลิตภัณฑ์ที่จัดว่าเป็นยา จึงไม่ได้มีสรรพคุณในการรักษาโรคใดๆได้ และการได้รับสารอาหารต่างๆควรได้จากการบริโภคอาหารหลักที่หลากชนิด ครบทั้ง 5 หมู่ เป็นสัดส่วนที่พอเหมาะ ผลการใช้อาจให้ผลที่แตกต่างกันในแต่ละบุคคล ควรเก็บไว้ในที่ร่มให้พ้นแสงแดดและความร้อน และ โปรดอ่านคำเตือนบนฉลากผลิตภัณฑ์หรือเอกสารกำกับผลิตภัณฑ์ก่อนใช้