สถิติผู้เข้าชมเว็บไซต์
5970289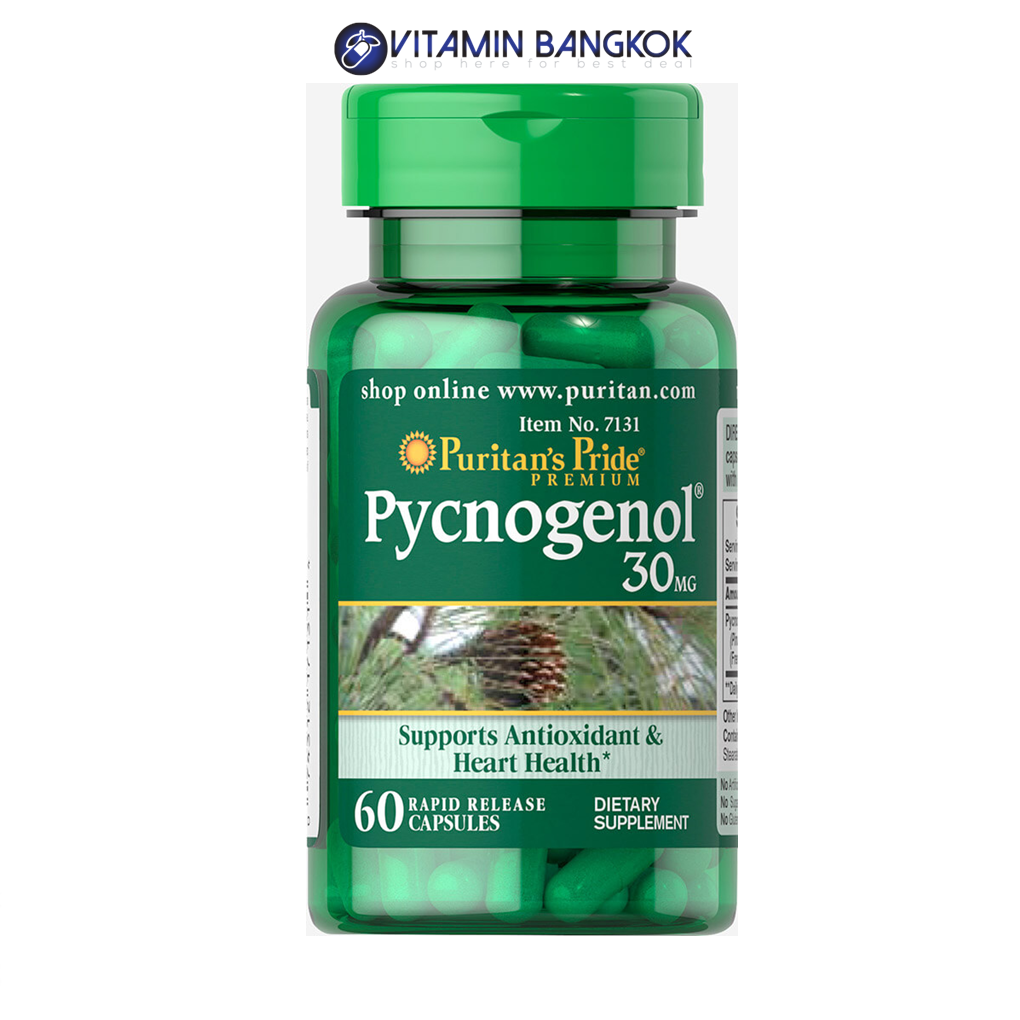 Product Code : 007131
พิคโนจีนอลสกัดจากเปลือกสนมาริไทม์ฝรั่งเศส มีสาร Oligomeric Proanthocyanidin Complexes (OPCs) และ Bioflavanoids สูง ต้านอนุมูลอิสระอย่างดีเยี่ยม
ราคาเดิม 629.00 ฿ ลดทันที 0 ฿
ลดเหลือ 629.00 ฿
Puritan's Pride Pycnogenol 30 mg / 60 Capsules
Puritan's Pride Pycnogenol 30 mg / 60 Capsules สกัดได้จากเปลือกต้นสนมาริไทม์ประเทศฝรั่งเศส มีสารออกฤทธิ์หลักๆได้แก่ สารในกลุ่ม Oligomeric Proanthocyanidin Complexes (OPCs) และสารอื่นๆ ในกลุ่ม Bioflavanoids ซึ่งมีคุณสมบัติในการต้านอนุมูลอิสระที่ดี (Powerful antioxidant) สารเหล่านี้ทสามารถละลายน้ำได้ ทำให้ทำหน้าที่ได้ดี ซึ่งอาหารเสริมนี้จะช่วยส่งเสริมสุขภาพที่ดีแก่ร่างกาย ช่วยส่งเสริมสุขภาพผิวพรรณให้ดีจากภายในสู่ภายนอก เป็นต้น
Puritan's Pride Pycnogenol 30 mg / 60 Capsules
The maritime pine tree is endogenous to the western Mediterranean region. Pycnogenol® is the trade name for the extract of the bark of the French maritime pine tree. This pine bark extract is one of the most potent antioxidant compounds ever discovered and considered by many experts to be the nutritional breakthrough of the 20th century.**
Pycnogenol® works synergistically with Vitamins C and E to help your body assault free radicals.**
Pycnogenol® also bolsters the immune system, helps improve circulation in legs (specifically in the veins and capillaries), supports the heart, nourishes the skin, and may help remedy the occasional discomforts of PMS.**
Pycnogenol® is a registered trademark of Horphag Research Ltd.
Supplement Facts
Serving Size 2 Capsules
Servings Per Container 30
Amount Per Serving
% Daily Value
Pycnogenol®
60 mg **
(Pinus pinaster)
(French Maritime Pine Bark Extract)
**Daily Value not established.
Directions: For adults, take two (2) capsules two times daily, preferably with meals.

Other Ingredients: Vegetable Cellulose, Gelatin. Contains <2% of: Silicia, Vegetable Magnesium Stearate.

WARNING: If you are pregnant, nursing, taking any medications or have any medical condition, consult your doctor before use. Discontinue use and consult your doctor if any adverse reactions occur. Not intended for use by persons under the age of 18. Keep out of reach of children. Store at room temperature. Do not use if seal under cap is broken or missing.