สถิติผู้เข้าชมเว็บไซต์
6527455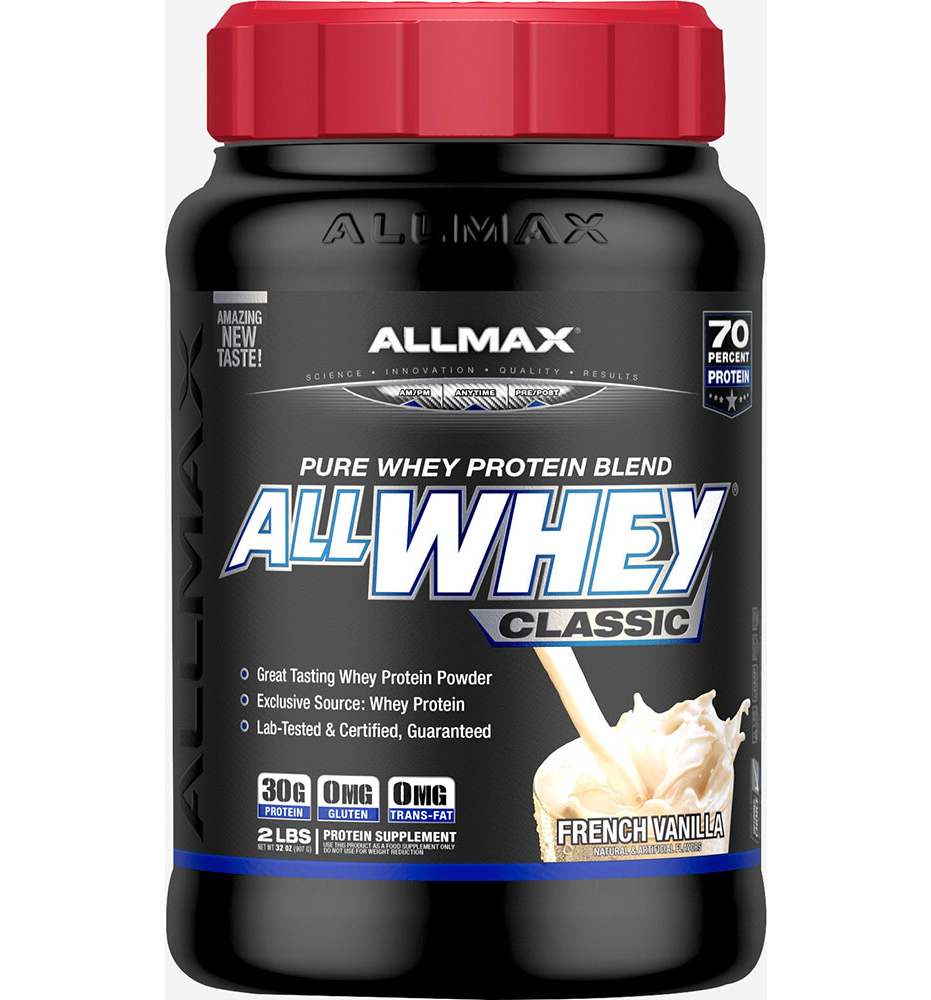 Product Code : 020715
เวย์โปรตีนเกรดพรีเมี่ยมบริสุทธิ์สูตรพิเศษเข้มข้น ไม่มีไขมันทรานส์ มาตรฐานระดับโลก เหมาะกับคนออกกำลังกาย นักเพาะกาย นักยกน้ำหนัก นักกีฬา เป็นต้น
ราคาเดิม 1,850.00 ฿ ลดทันที 350 ฿
ลดเหลือ 1,500.00 ฿
Allmax AllWhey Classic French Vanilla (Pure Whey Protein Blend) / 2 lb. Powder

Allmax AllWhey Classic French Vanilla (Pure Whey Protein Blend) / 2 lb. Powder ผลิตภัณฑ์เสริมอาหารเวย์โปรตีนเกรดพรีเมี่ยมบริสุทธิ์สูตรพิเศษเข้มข้น ไม่มีไขมันทรานส์ ผ่านการตรวจรับรองคุณภาพจากแล็บมาตรฐานระดับโลก มีกรดอะมิโนที่เข้มข้นและสำคัญ รสชาติดี รับประทานง่าย เหมาะกับคนออกกำลังกาย นักเพาะกาย นักยกน้ำหนัก นักกีฬา เป็นต้น

Science • Innovation • Quality • Results

AM / PM • Anytime • Pre/Post

Amazing New Taste • Great Tasting Whey Protein Powder

Exclusive Source: Whey Protein

Lab-Tested & Certified, Guaranteed

30 G Protein • 0 MG Gluten • 0 MG Trans Fat

Natural & Artificial Flavors. Sweetened with Acesulfame Potassium & Sucralose

70 Percent PROTEIN

Gluten Free • Kosher

ALLWHEY® Classic: All Protein • All Whey • No Compromises • Pure Results!

100% Complete Whole Protein Source • Non-Zero Non-Protein Amino Acids

Product of USA
ALLWHEY® CLASSIC is a premium Whey Protein Concentrate blended with Whey Protein Isolate delivering 30 g Protein in a 43 g serving, that's a 70% yield; tested and guaranteed! ALLWHEY delivers a clean, complete and whole protein made from the best source; 100% Whey Protein!
Demand pure Whey Protein, great taste and amazing value. Demand superior taste and exceptional protein. DEMAND ALLWHEY® CLASSIC!
A TRUE, PURE PROTEIN WITH TRULY PREMIUM TASTE
New Premium ALLWHEY® CLASSIC is by far the BEST tasting ALLWHEY we've ever made! We tested over 50 versions and selected four truly AMAZING flavors. Using a completely NEW cutting-edge flavor technology, our ALLWHEY flavors will make you think you just had a freshly blended Ice Cream Milkshake. Easy to mix and even easier to drink, ALLWHEY fits your fit lifestyle!
UNMATCHED VALUE
When you're looking for a protein, you're looking for the cleanest protein at the best price, Compare US to the competition, some are as low as 50% protein! Look at their serving size and total protein and do the math. Check their ingredients, others often contain inferior non-whey protein sources and non-protein fillers. ALLWHEY® stands head and shoulders above the competition delivering exceptional value with 70% protein at a cost that will keep you smiling all the way to the gym!
ALLWHEY®: BECAUSE RESULTS MATTER
ALLWHEY® is just that, it's ALL WHEY! ALLWHEY® has no inferior non-whey protein sources like soy or beef. It has zero non-protein Aminos and non fillers. Every gram of protein claimed is a true protein! ALLWHEY delivers a premium quality whey protein to help rebuild your muscles after intense training. Research shows that higher protein levels post-workout help muscles recover faster. BETTER PROTEIN, BETTER RESULTS!
Manufactured by Allmax
---
Supplement Facts
Serving Size: 1 Scoop (43 g†)
Servings Per Container: ~ 21
Amount Per Serving
% Daily Value
Calories 170
Calories from Fat 20
Total Fat
2 g 3%*
Saturated Fat
1 g 5%*
Trans Fat
0 g ‡
Cholesterol
80 mg 27%
Total Carbohydrate
9 g 3%*
Dietary Fiber
0 g 0%*
Sugars 8 g ‡
Protein 30 g 60%*
Calcium 200 mg 20%
Iron 0.4 mg 2%
Sodium 150 mg 6%
Potassium 320 mg 9%
* Percent Daily Values are based on a 2,000 calorie diet.
‡ Daily Value not established.
Directions: Blend, mix or shake 1 rounded scoop (43 g†) with approximately 8 oz (250 ml or 1 cup) of water or low-fat milk depending on desired taste and consistency anytime you want a premium satisfying high-protein beverage.
Other Ingredients: 100% Pure whey protein blend (cross-flow micro-filtered whey protein concentrate, cross-flow ultra-filtered whey protein isolate), natural and artificial flavors, gum blend (cellulose, xanthan, carrageenan), lecithin (soy), sea salt, sucralose, acesulfame potassium.
Natural & Artificial Flavors. Sweetened with acesulfame potassium & sucralose.
Allergen Warning: Contains milk (whey).
Produced in a facility that also handles soy, egg, peanut, tree nuts, fish, crustaceans and shellfish products.

WARNING: Use this product as a food supplement only Do not use for weight reduction Use only as directed. For adult use only. Consult a health care practitioner prior to use if you are pregnant or breastfeeding; if you have liver or kidney disease, or if you have been instructed to follow a low protein diet. Do not use if inner seal is broken. Store in a cool, dry place. Keep out of reach of children. For additional information, see allergen warning.
คำเตือน
ผลิตภัณฑ์ ดังกล่าวข้างต้นไม่ใช่ ผลิตภัณฑ์ที่จัดว่าเป็นยา จึงไม่ได้มีสรรพคุณในการรักษาโรคใดๆได้ และการได้รับสารอาหารต่างๆควรได้จากการบริโภคอาหารหลักที่หลากชนิด ครบทั้ง 5 หมู่ เป็นสัดส่วนที่พอเหมาะ ผลการใช้อาจให้ผลที่แตกต่างกันในแต่ละบุคคล ควรเก็บไว้ในที่ร่มให้พ้นแสงแดดและความร้อน และ โปรดอ่านคำเตือนบนฉลากผลิตภัณฑ์หรือเอกสารกำกับผลิตภัณฑ์ก่อนใช้